Custom Badge Reels
Custom Badge Reels have long been a staple in many industries. Customers like to utilize the space on the face of the reel to display a logo, web address, or company name. This is an excellent compliment to a Custom Lanyard Order!
Want to see Your Name and/or logo on a custom lanyard? Get your order started by filling out a FREE Quote today!
Custom Badge Reel Pricing
| 100 | 250 | 500 | 1000 | 2500 | 5000 | 10000 |
| --- | --- | --- | --- | --- | --- | --- |
| $0.80 | $0.77 | $0.75 | $0.69 | $0.63 | $0.59 | $0.57 |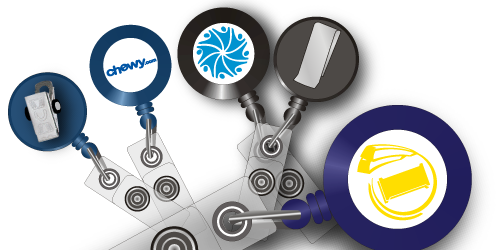 Badge Reels - Badge Reels are available in one standard size. Please see the Price Chart above, which details the cost per reel based on the quantity of the order. As with our Custom Lanyards, we offer Free Design Assistance for our Badge Reels! You will also enjoy FREE Shipping, and a 100% Price Match Guarantee, which ensures that you are receiving your items for the lowest possible price!

What We Offer to You on Every Order:
FREE Artwork & Design
100% Satisfaction Guarantee
FREE Unlimited Revisions
100% Price Match Guarantee
FREE Air Shipping
FREE Pantone Color Match

Here at Discount-Lanyards.com we offer you FREE and UNLIMITED Artwork & Revisions! We have excellent on-site designers that work with all customers to ensure their design is presented to their exact specifications on their custom lanyards. We also offer a 100% Price Match Guarantee! That simply means that when you order from Discount-Lanyards you are guaranteed not only to receive top-of-the-line lanyards, but you will also receive them at the best possible price! Don't wait any longer-Fill out our Fast & Easy FREE Quote Form Today!